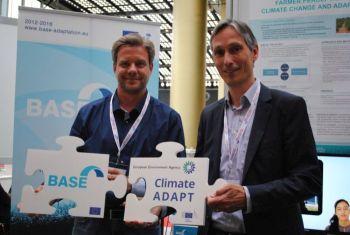 From 2012-2016 the BASE project made a substantial contribution to improving the knowledge base on sustainable adaptation in Europe.
The 23 case studies conducted within the BASE project analysed responses and adaptation strategies to climate change impacting different geographical regions (i.e.: coastal zones, urban areas) and various sectors (i.e.: agriculture, forestry and water resource management, etc). The BASE case studies provide an excellent insight into the status-quo of adaptation in Europe as well as comparable data on the effectiveness, costs and benefits, implementation challenges and successes of different responses.
BASE researchers cooperated with the European Environment Agency (EEA) to make the knowledge gathered accessible and useable for decision-makers at all levels. Case studies and project findings were integrated into the European Climate Adaptation Platform (Climate-ADAPT). Established in 2012, Climate-ADAPT is an initiative of the European Commission and the EEA for knowledge-sharing on climate change adaptation strategies and actions in Europe.
On 13 May 2016, during the Adaptation Future Conference 2016, Andre' Jol (EEA) and Hans Sanderson, Project Coordinator of BASE, met to celebrate the contribution of the BASE project outputs to the European Climate Adaptation Platform.
"The important new knowledge from the BASE project is expected to enable the move from adaptation strategies and plans, at various governance levels, towards implementation and action by stakeholders, thus enhancing climate resilience across Europe", said Andre' Jol, Head of the ACC4 - Climate change impacts, vulnerability and adaptation group  of the European Environment Agency (EEA).
"The entire BASE team is delighted to provide Climate-ADAPT with our case studies and other outputs. The BASE outputs have a strong emphasis on economic evaluation and assessment of participatory methodologies, which is needed to facilitate the implementation of the EU Adaptation Strategy to support an adapted, resilient and sustainable Europe." Hans Sanderson explained.
Concluding four years of interdisciplinary research, the BASE project has now reached its end. Among the final outcomes of this research are ten recommendations that aim to provide guidance to the 2017 review of the EU Adaptation Strategy. The recommendations highlight the need for diverse and interconnected actions to strengthen adaptive capacity, especially at the local level, and call for more coherent and integrated policies. All project outputs, including reports, policy briefs, videos, are publicly available on the project website and listed below.
The BASE project received funding from the European Union's Seventh Framework Programme for research, technological development and demonstration under Grant Agreement No. 308337 (Project BASE).