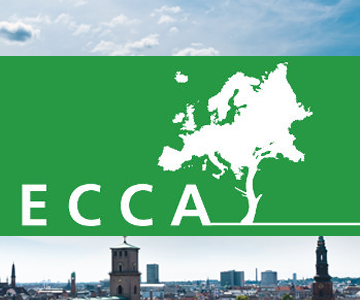 ECCA 2015 is now concluded. A huge thanks to the many participants who made it a successful event. Stay tuned for a recap of BASE activities at the conference, coming soon!
The programme of the second biennial European Climate Change Adaptation Conference (ECCA 2015) is
available online
. ECCA 2015 covered a range of issues related to climate adaptation under the theme, "Integrating climate adaptation action in science, policy, practice and business." The three-day conference took place from 12 to 14 May 2015 in Copenhagen (Denmark). The conference also featured a commercial exhibition for the business community, as well as three State of Green Tours to see innovative local adaptation activities in action.
ECCA 2015 was organised on behalf of the European Commission by three major European climate adaptation research projects: BASE,
RAMSES
, and
ToPDAd
, under the co-ordination of Aarhus University. Organisation is also supported by the Confederation of Danish Industry, the City of Copenhagen, the European Environment Agency, and the official conference airline SAS (providing carbon offsets).
The programme includes details on keynote speeches from high level officials and experts, over 60 presentation sessions, 20 workshops, poster sessions, and more. The selected topics covered business, economics, urban adaptation, sectoral adaptation, infrastructure, governance, social sciences and participation, climate services, risks, and region-specific issues. Specific sessions and workshops included:
European Commission plenaries on climate services and nature based solutions
Economic Instruments of Adaptation
Supporting Adaptation by cross-sectoral climate risk and vulnerability assessments
Resilience of the transport sector as a condition for climate change adaptation
Tracking adaptation to climate change
Urban adaptation action – a multi-level governance issue
Bridging the gap between research and community knowledge in adaptation research and implementation of adaptation measures.
Keynote speakers for ECCA 2015 included:
Kirsten Brosbøl; The Danish Minister of the Environment
Kurt Vandenberghe; European Commission
Hans Bruyninckx; European Environment Agency
Jens Hesselbjerg Christensen; The Danish Meteorological Institute (DMI)
Frans Berkhout; Future Earth
On Tuesday 12 May 2015, three site visits were organized by State of Green:
a tour to Køge Bugt Beach Park, one of Denmark's largest climate adaptation projects;
a visit of St. Kjelds Quarter, Copenhagen's first climate adapted neighbourhood; and
a tour to Musicon Rabalder Parken, functioning as a climate adaptation solution to withstand storm water.
Visits offer the opportunity to look into the combination of climate adaptation technologies and methods successfully implemented in the Copenhagen area.
A key component of the ECCA 2015 conference was the commercial exhibition, showcasing companies and organizations whose work is dedicated to the implementation of climate change adaptation and mitigation solutions, be they services or products. The exhibitors included: